15th DIHAC cross-cultural exchange meeting analysis report
2023.04.02
Taking advantage of technology with comprehensive policies paving the way toward healthy ageing communities
15th DIHAC cross-cultural exchange meeting report
Myat Yadana Kyaw, Takumi Suda, Yoko Maruyama, Mohd Nazrin Jamhari,  Myo Nyein Aung,  Qiushi Feng
Report in Japanese 
---
We learnt lessons about empowering digital inclusion of older persons or eliminating grey digital gaps in this trans-disciplinary meeting.
Macro-level:

National policy and commitment triggered digital transformation. Culture and values determine how the society will transform especially the extent and the speed to transform.

Meso-level:

Implementing digital training is possible through the collaboration of city authorities, corporations such as telecommunication agency, network provider, and the academics. It needs (1) time from the start to the consolidation of users' knowledge and behavior, (2) space as the venue for trainees' interactive learning, (3) human resource such as volunteers or staffs to teach mobile phone or digital skills and (4) financing mechanisms and (5) digital devices for the training selected with evidence-based and context-sensitive decision (6) project management and evaluation and (7) collaboration and partnerships.

Micro-level:

Apps are the interface for digital users and service providers such as health care. A mobile phone application is point-of-care communication platform for the users and also attracts new users. Apps demand user's digital skill while users' experience improve the apps.
---
As a result of the creation of a universal health coverage system in 1961 and the long-term care system in 2000, Japanese life expectancy has risen to an average of 84.6 years, 81.6 years for men, and 87.7 years for women in 2020[1]. Longevity is a privilege, but staying in good health longer is an even more significant achievement. The concept of digital inclusion is now regarded as a key component of healthy aging. Therefore, government commitment and policies are key to creating a sustainable environment for older people. The main focuses of the 15th DIHAC meeting were the overview of Japanese digitalization policies and processes as well as the use of digital technology for the prevention and treatment of non-communicable diseases.
During the meeting, the chairperson, Associate Professor Qiushi Feng, Ph.D., of the Department of Sociology and Anthropology, National University of Singapore, shared some of the latest findings from his research on the fact that almost all seniors in Singapore have access to mobile devices, but most do not know how to use them. In the family, seniors are learning from the younger adults, and this intergenerational contact point may determine how seniors adopt mobile devices.
The first presentation of the meeting started with an overview of Japanese digital policy by Mr. Takumi Suda, a Ph.D. candidate from the Department of Global Health Research, at Juntendo University. From the use of computers as expensive luxury devices to their current position as everyday essential devices, this overview discusses Japan's past, present, and future activities and challenges in digitization. Japan embraced and promoted ICT and digital technology for government and people's lives from the 1950s when computers were introduced to public services The number of individuals using the internet was 30% of the population in 2000 which was the lowest among high-income countries at that time. The basic act for IT was enacted in 2001 which allowed the formation of the e-Japan Strategy, aiming to make Japan the world's most advanced IT nation within five years. During the last decade, Japanese digital policies focused firstly on the development of ICT infrastructure, secondly on the utilization of ICT, thirdly on the use of digital data, and fourthly on forming a digital society. However, during the Covid-19 pandemic, Japan's digital transformation did not achieve as expected and there was an age gap in the usage of digital devices with not being essential and not knowing how to use them were the two major reasons [1]. As a superaged nation, these call for a need for further work on digital literacy and measures on eliminating the digital divide.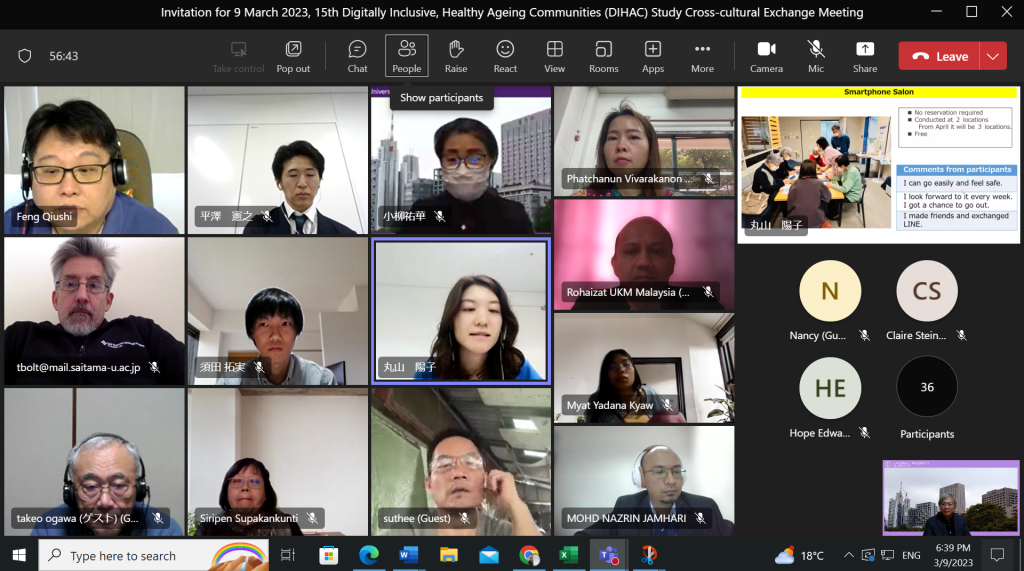 The second presentation was about  the digital empowerment program of Shibuya City, Tokyo, Japan to enable the older persons to use smart phone. As an effort in closing the digital divide for older people, Shibuya Municipality, one of the most modernized cities in Tokyo, shared its digital divide elimination project implementation and impacts on quality and convenience of older persons' daily life. The project started in 2021 and it's a two-year project aiming to promote healthy aging of seniors with the use of digital devices with security and thereby increasing the quality of life of older adults [2]. The project stemmed from the original idea of not leaving anyone senior behind to receive emergency and disaster messages. The project includes renting android smartphones to seniors above 65 years old living in Shibuya City, providing them with individual and group training classes for the use of mobile phones and health, communication, news, cognitive training, and disaster notification applications, and analysis of data by the collaboration with KDDI company and Tsuda University for evidence-based policymaking. In the project interim report after 10 months of implementation, it was found that the difficulty of learning to use smartphones is decreasing one time after another, and 80% of the participants describe having a positive impact on their daily life. At the smartphone saloon, not only the users could share their experiences of using smartphones but also the prospective users could participate before the actual use of smartphones. Through this project, seniors could embrace smartphones as a part of their daily life, receiving important information at the fastest time and possibly restoring social connections that might have been lost during the pandemic. As described by Mitzner et al, a customized system and independent usage after training would facilitate the longer adoption of technology by older adults [3].
Digital technology and smartphones, on the other hand, are used for the health promotion and prevention of non-communicable diseases such as diabetes mellitus. In Malaysia, the prevalence of diabetes is as high as 14.39%[4], and two-thirds of diabetic patients are uncontrolled with complications. High internet penetration (96.8%) and high mobile phone usage (98.7%) in Malaysia [5] facilitate the development of mobile applications for the prevention and control of diabetes. In the third presentation, Dr. Mohd Nazrin Jamhari from the National University of Malaysia presented the development of My Diabetes Apps for the improvement of knowledge, compliance, and control of Type 2 diabetes. The unique feature of the My Diabetes Apps is that it provided specific knowledge for uncontrolled diabetes in contrast to other apps that provide general knowledge and are designed for the general population. The app is developed by the discussion of experts including endocrinologists, physicians, IT technicians, and diabetes patients based on the health belief model. The nominal group technique is used for the final selection of recommendations. This application has high usability with a SKAMA score of 86. The application includes information on diabetes nutrition, diabetes emergency, daily blood glucose record, and appointment reminder functions. After using the diabetes apps, the users are found to increase their knowledge of diabetes, and better compliance and control. Longer implementation time also enhances the user's knowledge of diabetes. This app allows patients to monitor diabetes independently and prevents complications by disseminating diabetes knowledge. However, the app has limitations as it is available on the android platform due to high development costs, less interaction with attending physicians, and the language being in Malay. Despite the limitations, with the help of my diabetes app, diabetic patients can access the correct and updated knowledge about the disease and know how to control and monitor the disease progress easily.
The meeting ended up by highlighting two megatrends of the century: digital technological advancement and population aging. Two issues could be more efficiently constructed through applying the strengths of one another. A comprehensive digital society would not be achieved without including the increasing elderly workforce. High penetration of the internet and mobile devices are good opportunities to develop innovations in areas such as health promotion. Therefore, countries must have a strong political commitment to digitalization and implementing agencies to actualize the policies with inclusiveness.
References:
[1]Information and Communications in Japan; White Paper 2021; Ministry of Internal Affairs and Communications. 2021: Ministry of Internal Affairs and Communication Japan
[2]高齢者デジタルデバイド解消事業 | 高齢者デジタルデバイド解消事業 | 渋谷区ポータル. 2023; Available from: https://www.city.shibuya.tokyo.jp/kenko/koreisha-seikatsu/koreisha-digital-divide/dejitarudebaidokaisyou.html.
[3]Mitzner, T.L., et al., Technology Adoption by Older Adults: Findings from the PRISM Trial. Gerontologist, 2019. 59(1): p. 34-44.
[4]Akhtar, S., et al., Prevalence of type-2 diabetes and prediabetes in Malaysia: A systematic review and meta-analysis. PLoS One, 2022. 17(1): p. e0263139.
[5]Malaysia, O.M.S.D.O.S., ICT use and access by individuals and households survey report 2021.2022.
About authors
Myat Yanada Kyaw, MD is a Ph.D. student at the Department of Global Health Research, Graduate School of Medicine, Juntendo University, Tokyo, Japan.
Takumi Suda, Msc is a Ph.D. student at the Department of Global Health Research, Graduate School of Medicine, Juntendo University, Tokyo, Japan.
Yoko Maruyama, Shibuya city digital training project, Team leader
Mohd Nazrin Jamhari, MD, DrPH Kedah State Health Department, Ministry of Health Malaysia and Faculty of Medicine, National University of Malaysia
Myo Nyein Aung, MD, MSc, Ph.D. is an Associate Professor at the Department of Global Health Research, Graduate School of Medicine, Juntendo University, Tokyo, Japan.
Qiushi Feng, Ph.D. Deputy Head, Department of Sociology and Anthropology, Deputy Director, Centre for Family and Population Research (CFPR), Vice President, Population Association of Singapore, National University of Singapore.