Digitally Inclusive Healthy Ageing Communities (DIHAC) in Singapore: exchanging cross-cultural experiences, September 2022
2022.09.12
Singapore is the leader of digital technology and internet use in Southeast Asia. Its population is projected to see 25% as over 65 years old by 2030 according to Singstat. Multi-cultural metropolitan is an ideal place to study two global mega trends of digitalization and healthy ageing.
Digitally inclusive, healthy aging communities (DIHAC) is a cross-cultural study in Japan, Republic of Korea, Singapore and Thailand.  DIHAC team in Singapore led by Professor Carol Ma Hok-Ka, DIHAC study Co-PI, Singapore, had many fieldworks and community activities in August and September 2022 in collaboration with DIHAC researchers from Japan. (LinkedIn)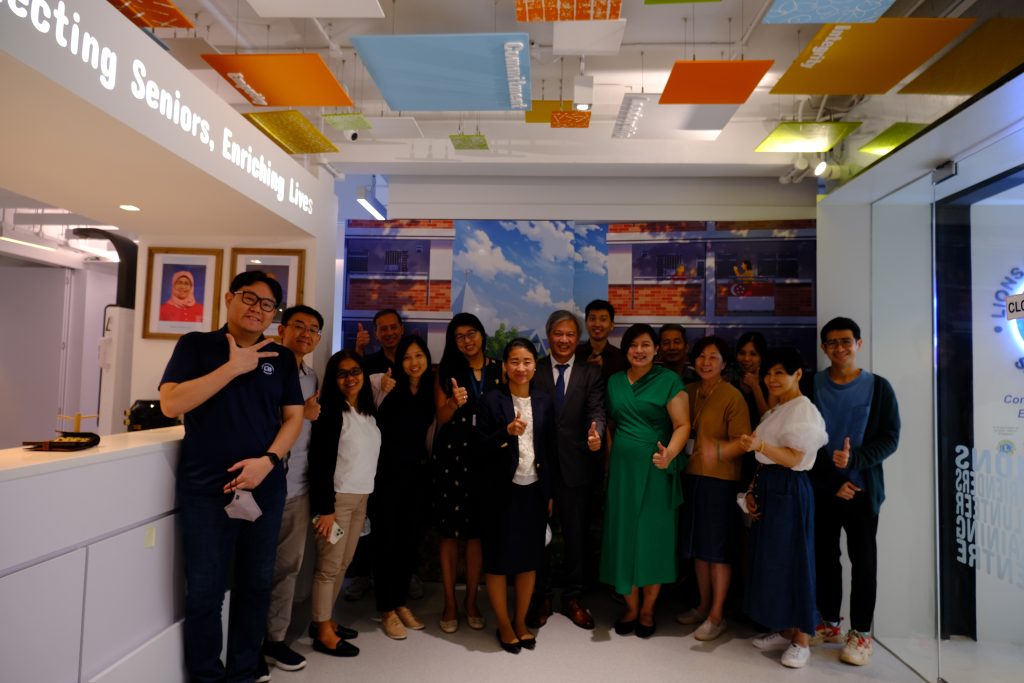 Photo: DIHAC team and Lion befrienders team together at LB office, Queenstown Singapore
DIHAC study principal investigator Associate Professor Myo Nyein Aung (Juntendo University) and Co-PI Dr. Yuka Koyanagi ( Tokyo Ariake University and Juntendo University) visited Lion Befrienders (LB), the organization which has more than 26 years of experience in befriending and caring for seniors in order for them to age in place in the community and currently very active in digital empowerment for older persons in Singapore and exchanged the healthy ageing and digital inclusion project experiences in Japan and Singapore. Active ageing centers and the daily programs are amazing. Social, physical and digital programs are in place in Singapore whereas the culture and languages of multi-racial community is maintained.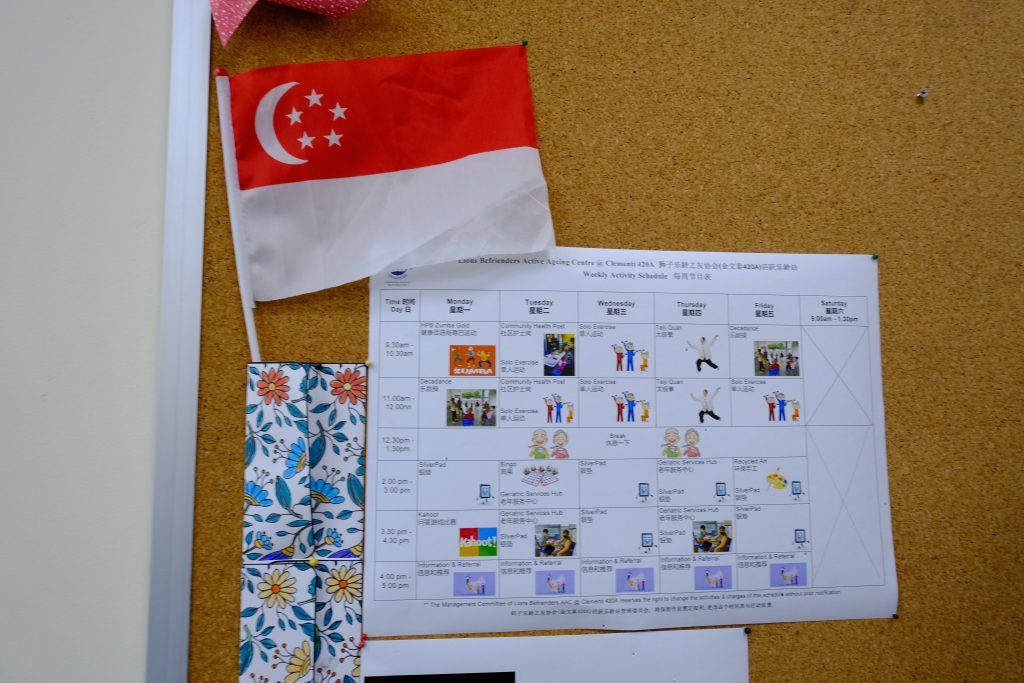 Photo: Weekly program of active ageing at a Lion Befrienders facilitated active ageing center in Singapore: digital facilitation programs are highlighted
DIHAC study team collaborated with Tsao Foundation, which has been dedicated to promoting active ageing and successful ageing in Singapore since 1993. Senior citizen workshops were organized.  In this approach, older citizens were invited to discuss their idea openly about the use of internet and digital technology in regard to their daily life and healthy lifestyle. Citizens were researchers and DIHAC team learned from their workshop. Executive Ms Leong Yuet Chun, Manager Mr. David Yue, and Tsao foundation welcomed DIHAC collaboration for research in Singapore.
Youtube Video:  Japanese Community Based Social Innovation (CBSI) for healthy ageing are shared to the community in Singapore in English by Prof Myo and in Mandarin by Prof Carol Ma. Participants actively discussed and asked about CBSI in Japan.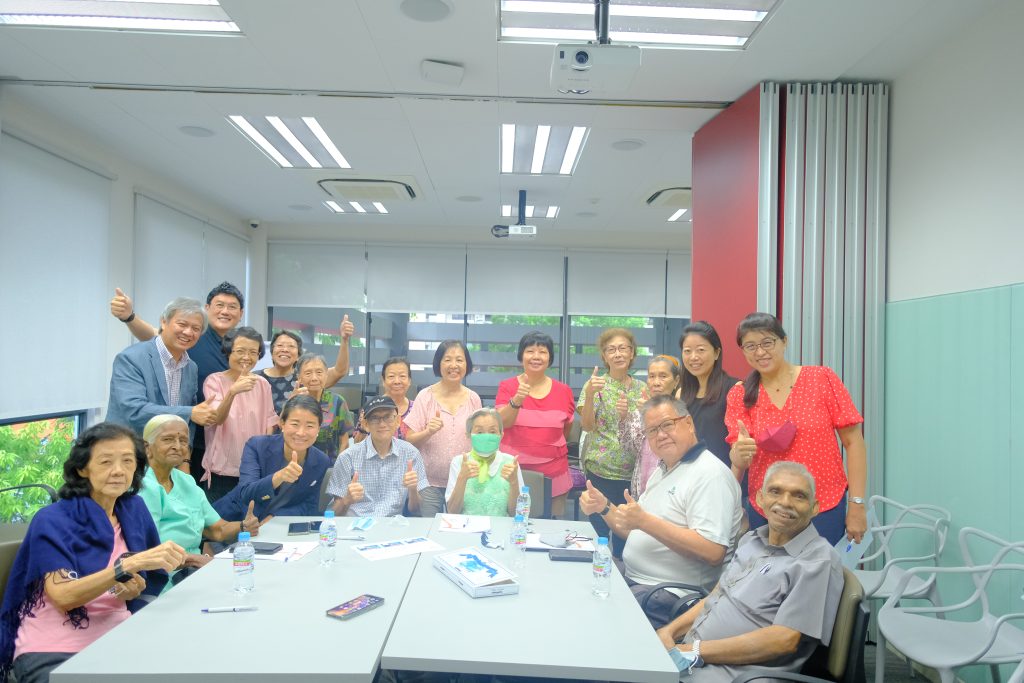 Photo: Community volunteers, Manager David Yue, Professor Carol Ma and DIHAC team at ComSa Whampoa center Tsao foundation after a senior citizens' workshop
Youtube Video: An interview with digitally active community volunteer Ms. Ratnam Periowsamy, in Singapore. She said, "Without the digital, I will be left behind", " I can do it".
Singapore University of Social Sciences, Professor Carol Ma, field coordinator Elizabeth Teo and DIHAC Japanese team worked on instrument translation, implementation plan, five-year collaboration strategy and pilot study for the research.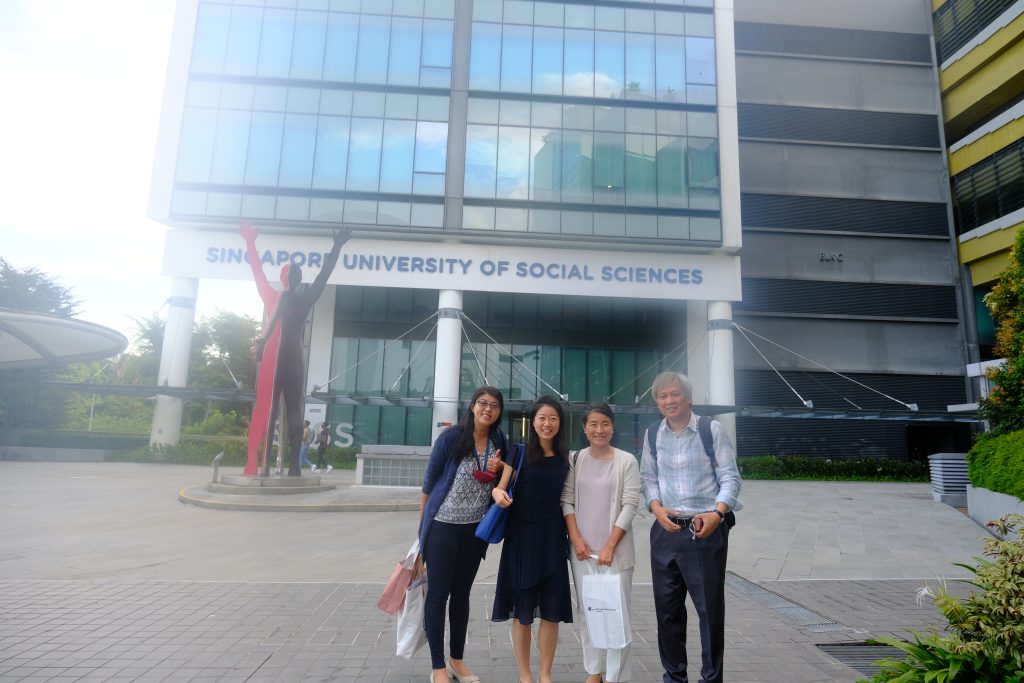 Photo: DIHAC Singapore and Japan teams together at Singapore University of Social Science, (SUSS), Singapore
Moreover, DIHAC Japan team also observed the Gerontology classes at SUSS. They discussed about future exchange in interns and students between Japan and Singapore. LB Managing Director Karen Wee, President and Vice president welcomed collaboration. In addition, DIHAC Japan team also visited National University of Singapore, community libraries, digital training classes, mobile service provider Singtel office, HDB residents' home, co-living places and functional training institiute in Singapore and interviewed founders and CEOs.
Further collaboration for cross-cultural exchange will happen more, in the DIHAC international policy review Zoom meeting platform and community-based studies in Japan, Republic of Korea, Singapore and Thailand.