10th DIHAC policy review meeting analysis report (English)
2022.05.13
Digitalization in the Ageing World 
Myat Yadana Kyaw, Nadila Mulati,  Malcolm Field, Motoyuki Yuasa, Mohd Rohaizat Hassan,  Myo Nyein Aung, Sathirakorn Pongpanich
The use of technology as well as the ownership of digital devices among older persons is markedly increased during the covid-19 pandemic[1]. The use of digital devices allows older people to stay connected and socially active while physical distancing is one of the ways to control the pandemic. Nowadays, one's health condition could be monitored through wearable digital devices by using big data, artificial intelligence (AI), etc. However, limited research has been done on the adoption and uptake of digital technology and devices by the older population. The 10th DIHAC meeting highlighted the use of wearable devices by seniors, AI in long-term care, and virtual, and augmented reality in the capacity building of healthcare human resources.
The 10th Digitally Inclusive Healthy Ageing Communities (DIHAC) meeting was held virtually on 19th April 2022 and chaired by Professor Sathirakorn Pongpanich, Dean, the College of Public Health Sciences, Chulalongkorn University. The principal investigator, Associate Professor Myo Nyein Aung, shared the purpose of the meeting. More than 30 participants are researchers from various backgrounds such as health economist, epidemiologists, doctors, sociologists and public health scholars, from 12 countries. In the opening speech, Professor Pongpanich addressed taking advantage of developing technology for the increasing older population around the world and making policies to be an inclusive healthy ageing society.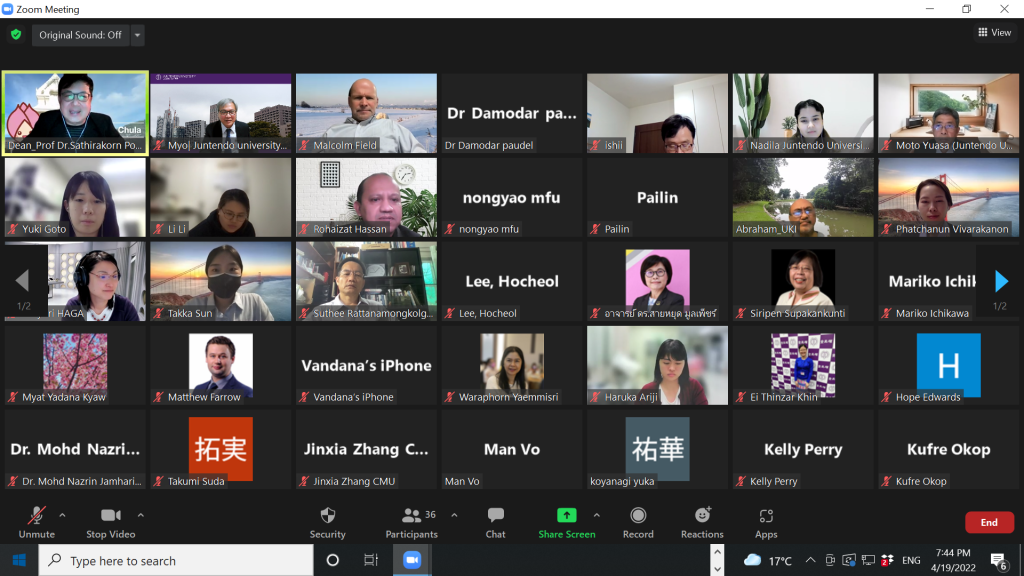 The use of wearable devices might potentially benefit seniors' healthcare. It can help to track and monitor the movement, some vital health indicators, and behaviors of the users. However, older adults are not the core consumer of wearable devices. Hence, the first presenter, Professor Malcolm Field, Faculty of Social Sciences, Kyorin University, and Faculty of International Liberal Arts, Waseda University, talked about the pros and cons of the Apple watch Series7 45mm GPS+ cellular from the seniors' perspective. The tracking features of exercise and heart rate and notification when the sedentary behavior is detected is good for the seniors to raise the awareness of their behaviors, and also encourage them to be more active. Family members can help set a reminder for the seniors to take their medicine or any other daily activities. However, considering the age group, if the user has deteriorated eyesight or finger dexterity, it would negatively affect their user experience. Moreover, to effectively benefit from the apple watch, it requires familiarity with Apple iOS and might require assistance while using it. Hence, considering the cost of the Apple watch and the points mentioned above, it might be more practical and beneficial for seniors to use more health-focused wearable devices, such as Fitbits or Garmin.
---
An increase in ownership of digital devices by older people calls attention to the development of age-inclusive digital devices.

Diffusion of innovative technology could enable – personalized health promotion activities and health human resources capacity building during and after the pandemic.
---
As for the second presenter, Professor Motoyuki Yuasa from the Department of Global Health Research, Juntendo University introduced the Sun Rising Izu Initiative for Sustainable Healthy Ageing Society, a community-based integrated care system, and the development of an AI-based health promotion program to overcome the challenges of population ageing in Japan[2]. The outcomes from this program will be transferred to other countries in Asia, Africa, and Latin America (3A initiatives) which would be facing population ageing in near decades. To sustain quality of life and  health security amidst super ageing society and shrinking human resource , the Izu sun rising Initiative comes up with four solutions which comprise digital health promotion in the municipality, establishment of home-based medical care, day training center for older people, and establishment of a system of care workers from outside of Japan. The first digitalization plan consists of 3 phases, a digital system for the transportation of older people, an open digital platform for the health and welfare of all ages in the municipality, and a government-supported smart city plan in collaboration with Japanese IT companies. This program also features AI-guided guardian health in which the system collects biodata from people, environment, and things in 24 hours and produced tailored-made medical advice. To access the day training center in the solution, the seniors could request mobility or transportation to the system by their mobile devices and the system would provide a transportation service in which the route to and from home to the training center will be guided by AI system for better efficiency and efficacy according to the location in which the seniors reside. With the development of new technology and innovations, the risks and benefits of AI on public health should be studied[3] and AI-based health innovations should preserve the autonomy of humans while leaving no one behind and no one isolated[4].
The outbreak of Covid-19 posed a further burden on the limited health human resources in some countries. Due to the new and unknown nature of the virus, capacity building for healthcare workers needs to be updated frequently and easily accessible by frontline workers. To achieve this goal, Professor Mohd Rohaizat Hassan and his team from Malaysia developed a mobile app for a comprehensive augmented reality simulation and field training for the Covid-19 Pandemic among healthcare workers. The application consists of comprehensive knowledge of covid-19 for health workers from case notification and verification, and use of personal protective equipment to health promotion. The procedures of taking a swab, PPE downing, and doping videos are made with virtual and augmented reality technology where the users could learn the procedures from 360-degree views without the need to be in a real situation. The contents of the training modules are developed by focused group discussion with the experts of different fields and this innovation is aimed for further application in Malaria training programs.
Through the discussion, Professor Abraham Simatupamg  from Jakarta addressed the possibility of  applying big data and AI for the health system of Indonesia and possibility to collaborate with DIHAC researches, counteracting challenges due to population ageing. The meeting was attended by collaborators, professors, academics, researchers and students from universities and organizations from Japan, Yonsei University Republic of Korea, Chulalongkorn University, Mahidol University, Srinakharinwirot University, Mae Fah Luang University and Boromarajonani College of Nursing, Lampang from Thailand, The University of Bradford UK, The National University of Malaysia, Capital University China, University of Cape Town South Africa, Indonesia and India.
To sum up, digital technology is becoming an essential part of daily life, and we could take the advantage of innovative technologies to develop personalized and precise health services and overcome challenges imposed by the pandemic while equity, sustainability, and inclusiveness of all ages are being considered.
References
Kakulla, B. Older Adults Are Upgrading Tech for a Better Online Experience. AARP 2021; Available from: https://www.aarp.org/research/topics/technology/info-2021/2021-technology-trends-older-americans.html.
陽伊豆る国構想. 2022-04-27 09:49:14]; Available from: https://www.hi izurukunikousou.com/english.
Panch, T., et al., Artificial intelligence: opportunities and risks for public health. Lancet Digit Health, 2019. 1(1): p. e13-e14.
WHO issues first global report on Artificial Intelligence (AI) in health and six guiding principles for its design and use. 2021, World Health Organization. p. 1.
Myat Yanada Kyaw MD is a Ph.D. student at the Department of Global Health Research, Graduate School of Medicine, Juntendo University, Tokyo, Japan.
Nadila Mulati is a Ph.D. student at the Department of Global Health Research, Graduate School of Medicine, Juntendo University, Tokyo, Japan.
Malcolm Field PhD is Professor of Social Science, Faculty of Social Sciences, Kyorin University, and Faculty of International Liberal Arts, Waseda University, Tokyo, Japan. He chaired the 9th DIHAC Policy review meeting.
Motoyuki Yuasa, MD, PhD is Professor, Faculty of International Liberal Arts, Associate Professor, Department of Global Health Research, Graduate School of Medicine,
Juntendo University, Tokyo, Japan
Mohd Rohaizat Hassan, MD, PhD is Associate Professor, Head of Department, Public Health Medicine Specialist & Epidemiologist, Department of Community Health, Faculty of Medicine, The National University of Malaysia, President, Malaysian Association of Epidemiology
Myo Nyein Aung MD, MSc, Ph.D. is an Associate Professor at the Department of Global Health Research, Graduate School of Medicine, Juntendo University, Tokyo, Japan.
Sathirakorn Pongpanich PhD is the Dean of the College of Public Health Sciences, Chulalongkorn University, Bangkok, Thailand