11th DIHAC policy review meeting analysis report
2022.07.07
Translation in Global Health, and Citizen Science Approach 
11thDIHAC policy review meeting analysis report
Nadila Mulati, Hirotaka Onishi, Kufre Joseph Okop, Myo Nyein Aung, Mitsuko Itoh 
Two key words of the 11th Digitally Inclusive, Healthy Ageing Communities (DIHAC) study policy review meeting are computer-assisted translation (CAT) and citizens science approach, which was held virtually on 16th June 2022. Dr. Mitsuko Itoh MD, MPH, who is the highest-level honored interpreter in Japan, a physician, a director of an international NGO, and an experienced public health researcher from Tokyo University chaired this meeting. Dr. Hirotaka Onishi from Tokyo University, and Dr. Kufre Joseph Okop from the University of Cape Town, South Africa presented at this meeting. Researchers from Kenya, China, India, Indonesia, Malaysia, Thailand, Nepal, South Africa, Sudan, Norway, the UK, and Japan DIHAC study team members participated in this joint bimonthly event.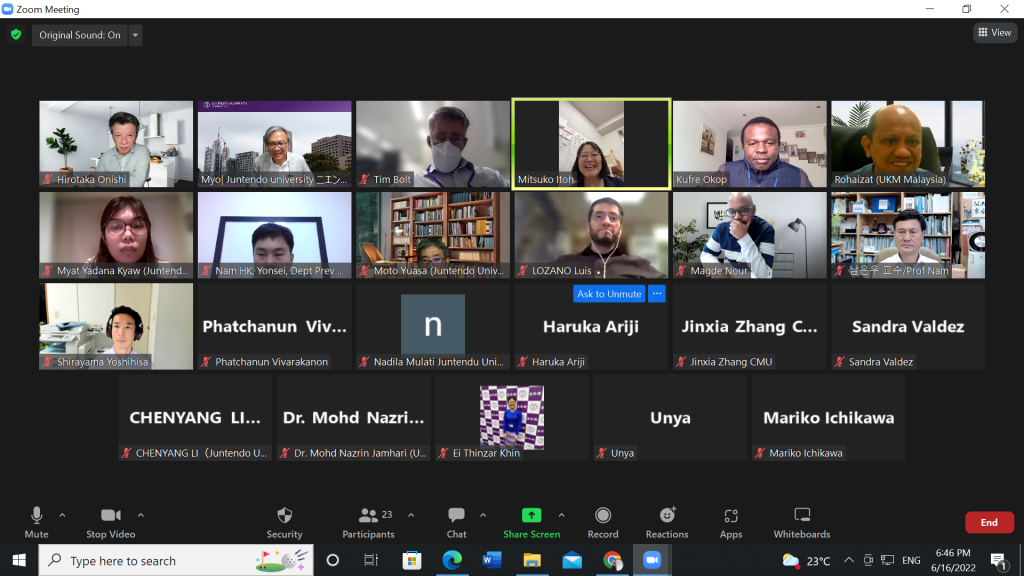 The development of information and communication technologies (ICTs) fostered the evolution of computer-assisted translation (CAT), which allowed the flow of information freely and effectively. It enables people to close the language barrier efficiently. However, some CAT tools that are being used nowadays are free, but lack accuracy, some are good quality, but expensive. Therefore, our first presenter, the associate professor from Tokyo University, Dr. Hirotaka Onishi introduced a CAT tool, MateCat, that is free, high quality, and efficient at this meeting. MateCat is a free and open-source online CAT tool developed by European Union, available in nearly 100 language translations. It can be added to web browsers and runs on the cloud. The MateCat can translate from simple sentences to a book while making sure the speed, accuracy, and consistency of terminologies in a paper, report, or book. Detailed features of the MetaCat were explained with examples, and meeting participants showed great interest and intendancy to use this software in their academic life.
Citizen science, defined as the involvement of individuals, who are not trained as researchers/scientists in collecting, categorizing, transcribing, or analyzing scientific data[1] has long been used in various research areas. Engaging members of the communities and beneficiaries as citizen scientists to participate and lead the research initiative is the highlight of our second presenter, Dr. Kufre Joseph Okop's presentation titled "Co-developing cardiovascular disease risk prevention strategies and advocacy in Sub-Saharan Africa: lessons from CEBHA+ citizen science project". The cardiovascular disease (CVDs) related death rate is higher in Sub-Saharan Africa (SSA) and other low-and middle-income countries. Most CVDs can be prevented by addressing behavioral risk factors, such as smoking, alcohol consumption, unhealthy diet, and physical inactivity[2]. However, a lack of knowledge about the risk of CVDs in African communities hindered the screening and prevention of the disease[3]. Therefore, the research of Dr. Kufre and his team aimed to use the citizen science approach to explore CVD risk perceptions and develop community-specific advocacy and prevention strategies in Malawi, Ethiopia, Rwanda, and South Africa[3]. This study is part of a larger project (Collaboration for Evidence-based Health Care and Public Health in Africa – CEBHA+) intended to develop evidence-informed policies and practices on screening approaches for hypertension, diabetes, and those at high risk of CVD in SSA communities[3]. Dr. Kufre Okop shared some of the important lessons and the challenges that encountered along the way. Including citizens in the community research supported the participatory engagement for inclusive learning, co-designing, and co-creation of CVD prevention interventions. Moreover, this participatory project fostered the participation of local communities in result-oriented science. With the support of researchers, citizens can produce reliable knowledge as well. Lastly, the evaluation of the intervention needs communal efforts of the researcher team, and stakeholders, including citizen scientists. The difficulties can be summarized as cost and time. As stakeholder engagement could be costly and challenging, recruiting and training community members as citizen scientists take time. Participants discussed the challenges encountered while conducting the research in the context of the COVID-19 pandemic. Also shared the significance of the citizen science approach in the field of global health and its application in different country contexts.
The next Digitally Inclusive, Healthy Ageing Communities (DIHAC) study policy review meeting is scheduled to be held in August 2022.
References
Bonney, R.; Shirk, J.L.; Phillips, T.B.; Wiggins, A.; Ballard, H.L.; Miller-Rushing, A.J.; Parrish, J.K. Next Steps for Citizen Science. Science 2014, 343, 1436-1437, doi:10.1126/science.1251554.
Cardiovascular diseases (CVDs). Available online: https://www.who.int/news-room/fact-sheets/detail/cardiovascular-diseases-(cvds)
Okop, K.J.; Murphy, K.; Lambert, E.V.; Kedir, K.; Getachew, H.; Howe, R.; Niyibizi, J.B.; Ntawuyirushintege, S.; Bavuma, C.; Rulisa, S.; et al. Community-driven citizen science approach to explore cardiovascular disease risk perception, and develop prevention advocacy strategies in sub-Saharan Africa: a programme protocol. Res Involv Engagem 2021, 7, 11, doi:10.1186/s40900-020-00246-x.
Nadila Mulati is a Ph.D. student at the Department of Global Health Research, Graduate School of Medicine, Juntendo University, Tokyo, Japan.
Hirotaka Onishi MD, MHPE, Ph.D. Assistant Professor, International Research Center for Medical Education, the University of Tokyo
Kufre Joseph Okop Chronic Disease Initiative for Africa, Department of Medicine, Centre for Social Science Research, University of Cape Town, Cape Town, South Africa
Myo Nyein Aung MD, MSc, Ph.D. is an Associate Professor at the Department of Global Health Research, Graduate School of Medicine, Juntendo University, Tokyo, Japan. He is also affiliated with the Advanced Research Institute for Health Sciences and the Faculty of International Liberal Arts, Juntendo University, Tokyo, Japan. He chaired the follow-up meeting.
Mitsuko Itoh MD, MPH, Director, Akasaka Family Clinic, Representative Director, NPO Healthy Children, Healthy Lives; Visiting Researcher, The University of Tokyo, Graduate School of Medicine, Department of Public Health/Health Policy; Pediatrician, The University of Tokyo Hospital, Department of Pediatrics; President, Aquarius Company Limited (interpretation, translation services, conference coordination)