16th DIHAC cross-cultural exchange meeting analysis report
2023.05.16
Bringing positive emotional and social support through AI-based Call and Music
16th DIHAC cross-cultural exchange meeting report
Nadila Mulati, Thet Htoo Pan, Myat Yadana Kyaw, Sang Hun Ok, Yukari Ikeda, Shiori Ikeda,  Myo Nyein Aung and Carol Ma Hok-ka
---
Preventing the social frailty of older people can be achieved with the help of Artificial Intelligence (AI)-based technology and/or community-based social innovations (CBSIs).
---
As the world's population ages, governments face the challenge of providing adequate healthcare and social services to their older citizens. One solution that is gaining traction is the integration of AI telecommunication technology into health and social services. AI technology can be used to monitor the health and well-being of elderly citizens remotely, allowing for early detection of health issues and timely intervention.
DIHAC study team organized the 16th cross-cultural exchange meeting on 20th April 2023. It started with a socializing chat between PI Dr. Myo Nyein Aung and the participants from ten countries. During the opening speech of the meeting, Professor Carol Ma Hok-ka, Ph.D., Head of the Gerontology program at Singapore University of Social Sciences (SUSS), as well as the Singapore DIHAC study investigator emphasized the significance of the aging population. She stated, "As we care for the elderly, we must also acknowledge that we ourselves are aging, and there is much work to be done in this field. This is one of the primary objectives of the DIHAC meeting."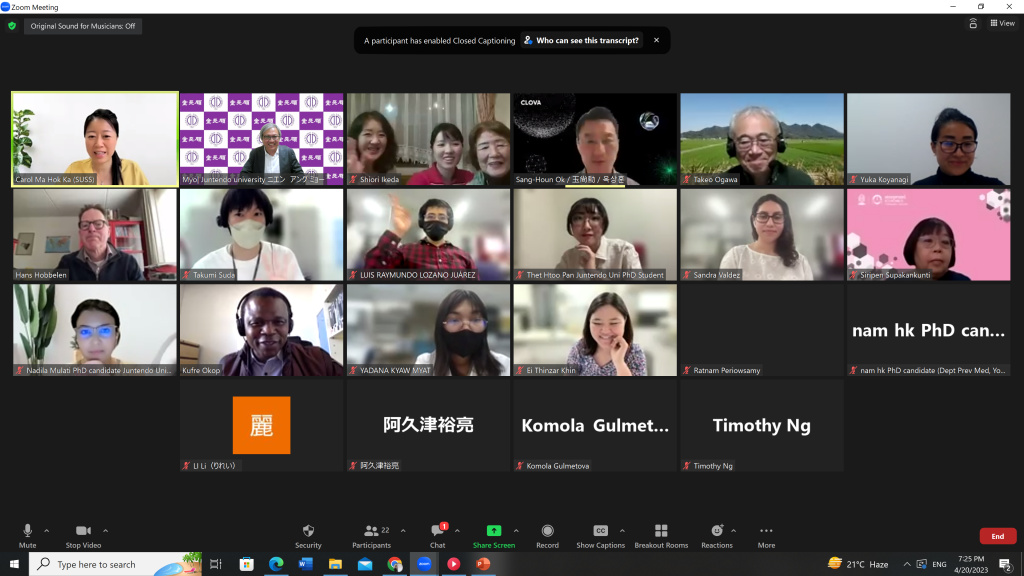 Figure 1: Screenshot of the 16th DIHAC meeting in Zoom being chaired by Professor Carol Ma Hok-ka, speakers, and international participants.
At the cross-cultural meeting, two speakers took the stage to share their insights. The first speaker, Sang Hun Ok, a Global AI Business from the Republic of Korea, presented on the CLOVA Care Call. Motivated by the act of Prevention of Lonely Act in South Korea, Naver Corporation, South Korea's important player in digital technology and artificial intelligence launched an AI Care Call for the care of older people living alone. Comprising two key components, the AI chatbot based on HyperCLOVA technology conducts regularly scheduled calls to registered seniors and asks about their daily life for 2-3 minutes. Through the open-ended conversation, health indicators such as meals, sleep, general health, going out and exercise are extracted and reported to the dashboard monitored by the social workers or volunteers. The chatbot has a memory feature that allows the conversation to be more natural and delivers personalized care and support to older people. Overall, CLOVA Care Call is a remarkable technology that has revolutionized the way we care for our older population. Natural conversation and personalized interactions make it a valuable tool for ensuring the safety and well-being of those who live alone[1]. Currently, the service area covers 50 cities, including Metropolitan Cities, providing service to 10,000 senior citizens living alone, middle-aged single-person households, and seniors with mild dementia. The care call is receiving positive responses from the users as well as from the social workers for emotional support and care to the older people especially those living alone. In the future, the emergency detection feature will be added and enable better, safer, and more timely interventions. For this innovative development, CLOVA Care Call has received two awards: the Human Technology Award 2022 Grand Prize on July 23rd, 2022, and the Best Practices for Administrative Innovation on August 31st, 2022, in Busan.
This AI Care Call drew a lot of attention from the meeting participants and participants discussed the cost and funding of the service, the future direction, and potential development in different countries. It is true that AI's regular call to older people is a way of maintaining emotional benefits and care for those living alone. The call from AI would reduce the burden on health workers, caregivers, and families however, on the other hand, the convenience of AI could reduce the actual human interaction.
Community-based social innovations (CBSIs) foster the health and well-being of older adults. It is activities or initiatives that seek to empower older people to improve their self-efficacy in caring for themselves and their peers, maintain their well-being, and promote social cohesion and inclusiveness[2]. As a "super-aged society," the CBSIs prevailed in Japan, mostly in the form of group functional training activities, and social and cultural activities, such as card games, poetry, writing, etc. Moreover, the study showed that CBSIs are indirect contributors to older persons' quality of life and direct contributors to active aging in Japan[3]. During the latter half of the meeting, attendees were treated to a wealth of knowledge and experience from a three-generation family of choral musicians. Yukari Ikeda, her daughter Shiori, and her mother introduced the CBSI program, called EdelYS.com, located in Kanagawa Ken, Japan. This initiative aims to facilitate the social connection of older adults through music. And it provides a place in the community for performers and participants to mutually enjoy music. The initiative holds regular concerts, Christmas concerts, consolation visits to nursing homes, and other events. Participants are encouraged to sing along with the musicians at the concerts so that they can enjoy the music and participate in it themselves. It also provides opportunities for performers to perform in the local community and helps them build ties with the local community. Younger residents in the community are also encouraged to volunteer to organize the event, which provides intergenerational connections within the community residence.
As people get older, time is perceived as limited, and the choices are paid more attention to emotional positivity rather than exploratory and informational[4]. In conclusion, the highlight of this meeting is fostering social connection among older adults, with AI and community-based social innovations, that might decrease the chance of social frailty, and increase the well-being of older adults. The next DIHAC meeting is planned to be organized in June, and we are looking forward to learning and exchanging knowledge and experiences from countries around the world in the context healthy aging decade.
References:
[1]Jo, E., et al. Understanding the Benefits and Challenges of Deploying Conversational AI Leveraging Large Language Models for Public Health Intervention. ACM.
[2]Ghiga, I., et al., The effectiveness of community-based social innovations for healthy ageing in middle- and high-income countries: a systematic review. Journal of Health Services Research & Policy, 2020. 25(3): p. 202-210.
[3]Aung, Myo Nyein, Yuka Koyanagi, Satomi Ueno, Sariyamon Tiraphat, and Motoyuki Yuasa. "Age-friendly environment and community-based social innovation in Japan: A mixed-method study." The Gerontologist 62, no. 1 (2022): 89-99.
[4]Löckenhoff, C.E. and L.L. Carstensen, Socioemotional Selectivity Theory, Aging, and Health: The Increasingly Delicate Balance Between Regulating Emotions and Making Tough Choices. Journal of Personality, 2004. 72(6): p. 1395-1424.
About authors
Nadila Mulati, MSc is a Ph.D. student at the Department of Global Health Research, Graduate School of Medicine, Juntendo University, Tokyo, Japan.
Thet Htoo Pan, MD is a Ph.D. student at the Department of Global Health Research, Graduate School of Medicine, Juntendo University, Tokyo, Japan.
Myat Yanada Kyaw MD is a Ph.D. student at the Department of Global Health Research, Graduate School of Medicine, Juntendo University, Tokyo, Japan.
Sang Hun Ok, Global AI business, Republic of Korea
Yukari Ikeda, Edel.YS.com, Kanagawa, Japan
Shiori Ikeda, a Ph.D. student at the Department of Public Health, Graduate School of Medicine, Juntendo University, Tokyo, Japan.
Myo Nyein Aung, MD, MSc, Ph.D. is an Associate Professor at the Department of Global Health Research, Graduate School of Medicine, Juntendo University, Tokyo, Japan.
Carol Ma Hok-Ka, PhD is Associate Professor, Head, Master, and Ph.D. of Gerontology Programmes & Senior Fellow (Service-Learning & Community Engagement), Centre for Experiential Learning S R Nathan School of Human Development, Singapore University of Social Sciences (SUSS)